Welcome to the World of 125cc Motorbikes
Riding the wave of the open road on a nimble, responsive machine, there's nothing quite like the thrill of 125cc motorbikes. Often dubbed the 'gateway' to the world of biking, these dynamic machines are so much more than just a stepping stone for learners.
Indeed, the 125cc motorbike has carved its own niche in the world of two-wheelers. Lightweight and versatile, these bikes embody a spirit of freedom – perfect for winding through bustling city streets or taking on those countryside curves. It's not just about the size or the power, but the very essence of biking distilled into its most accessible form.
Whether you're just kick-starting your motorbike journey or are a seasoned rider looking for a nifty city companion, the 125cc motorbike is your ticket to a world of unbridled biking pleasure. Dive in and discover why these compact wonders are stealing the limelight in the biking world.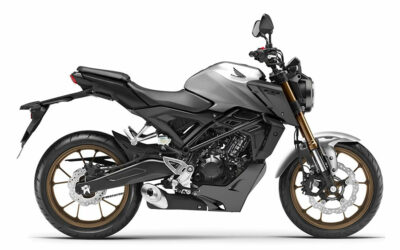 Welcome to the exciting world of the Honda CB125R, a contemporary masterpiece blending performance, style, and Honda's renowned engineering excellence. This motorcycle, ideal for both new and experienced riders, offers a unique combination of agility and reliability....
Benefits of 125cc Motorbikes
1. Fuel Efficiency
Zipping around on a 125cc motorbike isn't just fun; it's incredibly economical too. With stellar fuel efficiency, these bikes are a boon for your wallet. Say cheerio to frequent petrol station stops and watch the pounds stack up in savings!
2. Perfect for Beginners
Taking the plunge into the world of biking? The 125cc is a splendid choice. Its user-friendly nature and manageable power output make it an ideal companion for those still getting their bearings. It's the motorcycling world's equivalent of a friendly pat on the back – reassuring and ever supportive.
3. Affordability
High-performance bikes often come with hefty price tags. Not the 125cc. These bikes offer a perfect blend of performance and affordability, making them an attractive choice for riders of all ages and budgets. Your bank account will thank you!
4. Maintenance
The beauty of 125cc motorbikes extends beyond the ride. Their straightforward designs and well-established mechanics mean fewer trips to the garage and more time on the road. Simplicity is key, and with a 125cc, maintenance is a cinch.
Getting Started with 125cc Motorbikes
Embarking on your motorbiking journey with a 125cc is a delightful rite of passage. These bikes are tailor-made for both the curious beginner and the urban explorer, striking a perfect balance between power and agility. As you gear up to start this new chapter, let's guide you through the essentials to ensure you hit the road with confidence and enthusiasm.
Licensing Matters
Before anything else, ensure you've got the right paperwork. In the UK, at age 17 and above, you can ride a 125cc bike with a CBT (Compulsory Basic Training) certificate. This isn't a full licence, but it gets you on the road, and it's a great starting point!
Learn more about Compulsory Basic Training
Picking the Perfect Bike
With so many 125cc models out there, it can be a tad overwhelming. Look for something that fits your body shape and feels comfortable. Whether you fancy a sporty, retro, or an off-road style, there's a 125cc waiting just for you.
Safety First
Invest in quality protective gear. A good helmet, gloves, and riding jacket are essentials. Proper footwear and trousers can't be overlooked either. Remember, it's not just about looking the part; it's about ensuring you're well protected on the road.
Familiarise and Practice
Before hitting the main roads, spend time getting to know your bike. Practise in quieter areas, focusing on basics like turning, braking, and shifting gears. The more you practise, the more intuitive riding will become.
Continued Learning
While a CBT gets you started, consider progressing to a full motorcycle licence. Not only does it open doors to larger bikes in the future, but the additional training will make you a more skilled and safer rider.