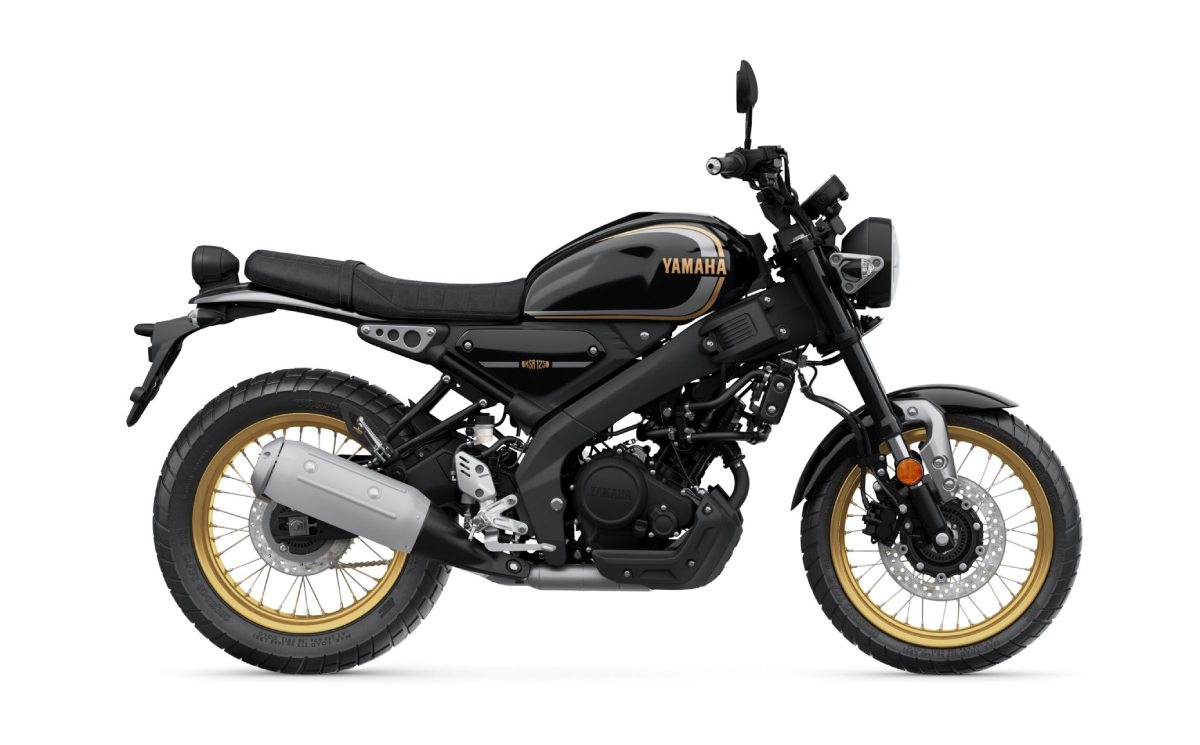 Discover the captivating blend of classic style and modern performance with the Yamaha XSR125. A true urban warrior, the XSR125 is designed for new riders and veterans alike, offering smooth power delivery with its 125cc engine and standout handling. Its retro charm, fused with contemporary features like LED lighting and Variable Valve Actuation, ensures a ride that's as reliable as it is thrilling. Ideal for daily commutes with its economical running costs, the XSR125 is a nod to motorcycling's heritage and the epitome of cool on two wheels.
Dimensions & Weight
| | |
| --- | --- |
| Seat Height | 815 mm |
| Wheelbase | 1,330 mm |
| Curb (Wet) Weight | 140 kg |
Engine & Performance
Engine Type

Liquid-cooled, 4-stroke, SOHC, 4-valves

Engine Size/Displacement

124cc

Horsepower and Torque
14.75 horsepower at 10,000 rpm
11.5 Nm of torque at 8,000 rpm
Transmission & Fuel
| | |
| --- | --- |
| Number of Gears | 6-speed |
| Fuel Capacity | 11 litres |
| Fuel Economy | 100 miles per gallon (mpg) |
Chassis & Suspension
Frame Type

Steel Delta box

Front/Rear Suspension
Telescopic forks /
Swingarm
Front/Rear Brake
Hydraulic single disc brake, 292 mm /
Hydraulic single disc brake, 220 mm
History and Evolution of the Yamaha XSR 125
he Yamaha XSR125's story begins with a nod to the past while accelerating towards future horizons. This bike, drawing from Yamaha's rich heritage, marries classic design with modern technology. Introduced to the European market, it was engineered to meet the demands of new-age riders who yearn for nostalgia without compromising on performance. As part of the renowned XSR series, which is famous for its 'Sport Heritage' range, the XSR125 has become a beloved model for both new and experienced riders.
Year after year, Yamaha has meticulously updated the XSR125 to keep pace with evolving trends and regulations. Each iteration brings with it enhancements ranging from bolder colour schemes to refined engines compliant with the latest emission standards. Noteworthy milestones include its adoption of the Euro 5 engine standards, showcasing Yamaha's commitment to environmentally responsible performance.
Key Milestones in Model History
Tracing the model's evolution, the XSR125 has undergone several significant changes since its inception. The timeline of its development is marked by the introduction of advanced features such as Variable Valve Actuation (VVA) technology, designed to optimise power and efficiency. A standout year was when Yamaha introduced LED lighting across the range, improving visibility and safety. These milestones aren't just proof of the bike's evolution; they represent Yamaha's dedication to rider satisfaction and innovation.
Over the years, Yamaha's persistent upgrading of the XSR125 has solidified its reputation in the competitive 125cc motorbike category. Special editions and limited runs have spiced up its appeal, offering customised features and exclusive designs. Riders have seen the XSR125 not only as a means of transport but as a statement of style and personal expression, further cementing its status in motorbike culture.
As you follow the XSR125's journey, it's clear that Yamaha has skilfully balanced traditional cues with future-forward changes, ensuring each model year is as exciting as the last. The bike has not only adapted to the needs of the time but has also stood out as a beacon of timeless design and reliability, winning the hearts of enthusiasts across the globe.
Performance and Handling
The Yamaha XSR125's performance on tarmac is a testament to the manufacturer's prowess in creating a bike that punches well above its weight class. Its nimble frame and responsive handling make it a joy for navigating tight city streets and a capable performer on winding country roads. The heart of the XSR125 is its 125cc engine that provides a smooth power delivery, with the Variable Valve Actuation (VVA) coming into its own to offer a blend of low-end torque and high-speed performance.
Moreover, the bike's suspension is finely tuned to deliver a ride that's firm enough to handle spirited riding, yet forgiving enough to be comfortable over longer distances. Its lightweight nature, coupled with an accessible seat height, ensures that riders of all skill levels can enjoy what the XSR125 has to offer. The precision and agility of this motorbike make it a standout choice for those looking to hone their riding skills or simply enjoy the purity of motorcycling.
Rivals in the Ring
When parked next to its rivals in the 125cc class, the Yamaha XSR125 holds its ground with confidence. Its performance is often compared to the likes of the Honda CB125R and the KTM 125 Duke. Each of these bikes has its strengths, but the XSR125's blend of retro style and modern performance gives it a unique edge. It matches its competitors with a similar power output but outshines many with its distinctive character and riding experience that is both exhilarating and forgiving.
The lightweight chassis not only makes it easy to handle but also contributes to its impressive fuel efficiency, a crucial factor for riders who are conscious of both running costs and environmental impact. The bike's braking system deserves praise too, offering reliable stopping power with the added reassurance of ABS, which is not just a safety feature but a nod to Yamaha's commitment to rider safety across its range.
The Yamaha XSR125 doesn't just ride on the strengths of its performance and handling. It does so with an aura of charm and personality that few bikes in its class can match. For those looking to step into the world of motorcycling or for seasoned riders seeking a bike with character and dependability, the XSR125 promises and delivers a remarkably satisfying experience.
Maintenance and Reliability
Maintaining a Yamaha XSR125 is straightforward, thanks to the bike's design that focuses on reliability and ease of care. Regular maintenance tasks for the XSR125 are largely routine and can be a great introduction to motorcycle maintenance for newer riders. Oil changes, chain adjustments, and brake pad checks are all part of the regular upkeep and are well-documented in the owner's manual. Scheduled service intervals are clearly outlined, with the first major checkup usually recommended after the initial 1,000 kilometers, followed by periodic maintenance every 6,000 kilometers or annually.
For the home mechanic, the XSR125 is accommodating, with many of the common maintenance tasks being simple enough to complete with basic tools and a bit of knowledge. However, tasks like valve clearance checks and fuel system maintenance should be entrusted to professionals. Yamaha's network of dealers and service centers offer excellent support, ensuring that any issues can be addressed promptly and efficiently.
Navigating Known Issues and Recalls
Like any vehicle, the XSR125 has had its share of recalls and service bulletins, though these have been relatively minor and well-handled by Yamaha. Known issues are quickly communicated to owners with clear instructions on how to have them rectified. It's always wise to check for any outstanding recalls when purchasing a used XSR125 or periodically during ownership.
Recalls aside, the XSR125 has proven itself to be a reliable companion on the road. User forums and reviews frequently mention the bike's durability, with many riders reporting trouble-free experiences beyond the usual wear and tear. However, as with any motorcycle, the longevity of the XSR125 heavily depends on adhering to the recommended service schedule and addressing any issues as they arise.
Yamaha's commitment to reliability is reflected in the XSR125's build quality. Even so, riders should be aware of signs of wear, especially on consumable components like tires, brake pads, and the drive chain. By keeping a vigilant eye on these parts and following Yamaha's maintenance schedule, owners can expect many miles of rewarding riding from their XSR125.
Yamaha XSR125 Reviews and Testimonials
The Yamaha XSR125 has garnered a community of passionate riders, many of whom are eager to share their experiences. Owners often rave about the bike's perfect blend of style and substance. Its retro look garners admiration on city streets, while its modern touches make it a practical daily rider. The XSR125's performance is frequently praised for its approachability, making it an ideal bike for learners while still offering enough zest for seasoned riders seeking a nimble urban companion.
First-hand testimonials frequently highlight the bike's ease of handling, praising its lightweight frame and accessible ergonomics, which instill confidence in riders of all statures and experience levels. The smooth engine and the refined gearbox also receive kudos for their reliability and rider-friendly characteristics. Moreover, the community appreciates the bike's fuel efficiency, which keeps running costs low without skimping on the joy of the ride.
Despite the widespread acclaim, no bike is without its drawbacks, and the XSR125 is no exception. To encapsulate the collective voice of the XSR125 riders, here is a distilled list of pros and cons:
Pros
Classic Design: The bike's timeless aesthetics are a constant point of positive mention.
Modern Tech: Features like VVA and LED lighting blend classic and contemporary.
Approachable Performance: Its power delivery is smooth, making it perfect for new riders.
Handling: Light and nimble, it's excellent for urban environments and twisty roads.
Fuel Efficiency: The XSR125's economical running costs are a boon for budget-conscious riders.
Reliability: Yamaha's reputation for durability holds, with few significant mechanical issues reported.
Cons
Price Point: Some feel the bike is priced premiumly compared to its peers.
Limited Power: For those seeking thrills, the 125cc engine may leave them wanting more.
Seat Comfort: Over longer journeys, the stock seat may not offer the best comfort.
Wind Protection: The bike's naked design offers little in the way of wind deflection at higher speeds.
In summary, the Yamaha XSR125 stands as a testament to the brand's ability to fuse the soul of motorcycling's past with the demands of the present. It is a two-wheeled tribute that captures hearts with its looks and wins minds with its performance. While it may not be the perfect fit for power-seekers or long-distance tourers, it shines brilliantly within its intended scope: providing a stylish, reliable, and enjoyable ride for everyday adventurers.
Frequently Asked Questions
How fast is a Yamaha XSR125?
The Yamaha XSR125's top speed is approximately 65 mph (105 km/h), although actual top speed may vary based on riding conditions and modifications.
How much is a Yamaha 125 in the UK?
The Yamaha XSR125 typically sells for around £4,500 new in the UK. Prices can vary based on dealership location, available promotions, and whether you're looking at new or used models.
What is the power of the XSR125?
The Yamaha XSR125 is powered by a 124cc single-cylinder engine that produces around 14.75 horsepower (11 kW) and 11.5 Nm of torque.
What size is the XSR125?
The Yamaha XSR125 is a lightweight motorcycle with a seat height of 815 mm, a wet weight (with oil and a full fuel tank) of approximately 140 kg, and a length of 1,960 mm. It has a fuel tank capacity of 11 litres, making it well-sized for both city riding and longer commutes.