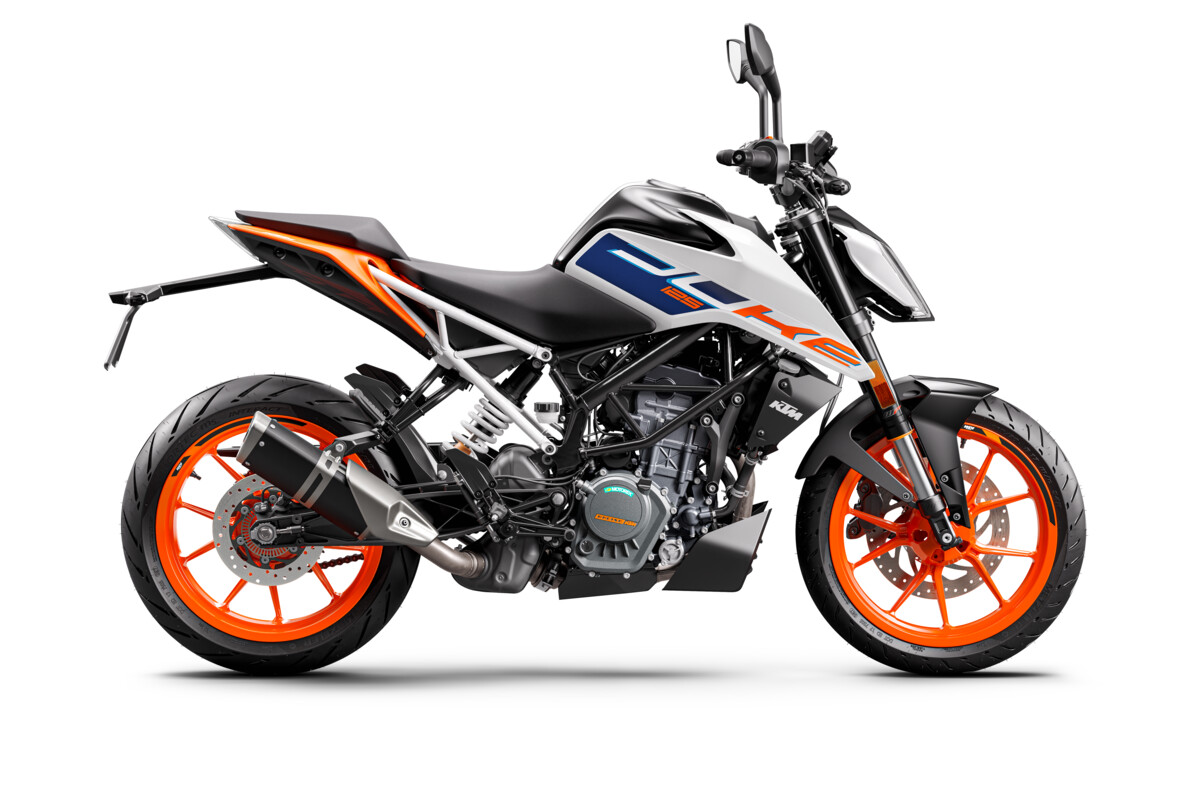 The KTM 125 Duke is a blend of style, performance, and practicality, making it a favoured choice among both novice and seasoned riders. Its rich history dates back to its introduction in 2011, and since then, it has continually set high standards in the 125cc segment. Known for its on-road performance, striking design, and user-friendly maintenance, the Duke resonates well with a broad spectrum of riders. Its competitive edge in the market is further solidified by numerous positive reviews and testimonials, underscoring its enduring appeal in the motorcycling community.
Dimensions & Weight
| | |
| --- | --- |
| Seat Height | 818 mm​ |
| Wheelbase | 1366 mm​ |
| Dry Weight | 139.0 kg |
Engine & Performance
Engine Type

Single cylinder, four-stroke

Engine Size/Displacement

124.7 cc

Horsepower and Torque
15.0 HP at 9,250 RPM
12.0 Nm at 8,000 RPM
Transmission & Fuel
| | |
| --- | --- |
| Number of Gears | 6-speed​ |
| Fuel Capacity | 13.5 litres |
| Fuel Economy | 85 mpg |
Chassis & Suspension
Frame Type

Steel trellis frame, powder coated

Front/Rear Suspension
WP Apex Ø 43 mm with 142 mm travel /
WP Apex Monoshock with 150 mm travel​
Front/Rear Brake
Single disc with ABS and a four-piston radial fixed calliper / 
Single disc with ABS and a single-piston floating calliper
History and Evolution of the KTM 125 Duke
The KTM 125 Duke, a product of Austrian craftsmanship, has carved a unique niche in the motorbike arena over the years. Introduced to motorcycle enthusiasts in 2011, this nimble yet powerful machine has undergone numerous transformations, embodying the spirit of motorcycling with each iteration.
The journey began with the initial model, which was well-received for its high-quality components and road presence seldom seen in the 125cc motorbike category. Over the subsequent years, the 125 Duke continued to evolve, with notable updates almost every year to enhance its performance, aesthetics, and rider comfort. For instance, the 2017 upgrade brought in a fresh design, mimicking the style of its bigger sibling, the KTM 390 Duke, along with improved ergonomics. Similarly, in 2020, the model received significant engine tweaks to comply with the Euro 5 emissions standards, showcasing KTM's commitment to environmental responsibility.
Key milestones in the Duke's saga are numerous. The inclusion of a Bosch fuel injection system early in its lifecycle was a game-changer, setting a high standard in the 125cc segment. Additionally, the 2017 facelift not only modernised its appearance but also introduced a plethora of high-tech features like a TFT display and smartphone connectivity, demonstrating KTM's forward-thinking approach.
Moreover, the KTM 125 Duke's consistent performance in markets across Europe has propelled it to be a highly regarded choice among beginner and city riders. This rich history of continuous improvement, coupled with a keen eye for evolving market demands, stands as a testament to the enduring appeal of the KTM 125 Duke, making it a fascinating subject of study for motorbike aficionados.
Performance and Handling
The KTM 125 Duke is often heralded as a remarkable blend of performance and handling, especially appealing to novice riders. Its lightweight frame, coupled with a punchy 125cc engine, promises a nimble and exhilarating ride. The bike's performance on the road is a testament to KTM's engineering prowess, ensuring a smooth ride even on rough terrains.
The engine, despite its small displacement, provides a brisk acceleration, making city commuting a breeze. Additionally, the WP suspension contributes to a comfortable ride, effectively absorbing shocks from road imperfections. The handling is further enhanced by the bike's lightweight characteristic, allowing for agile manoeuvring through traffic. Riders often appreciate the confidence the 125 Duke instils, thanks to its stable and responsive handling.
Comparatively, when pitted against its peers in the 125cc segment, such as the Yamaha YZF-R125 or the Aprilia RS 125, the KTM 125 Duke holds its ground firmly. While the Yamaha and Aprilia might offer a more sporty riding position, the Duke provides a more upright and comfortable stance, which is often preferred for city riding. Moreover, the Duke's engine performance is commendable, often being praised for its torquey nature at low to mid RPMs, which is quite handy in urban settings.
Maintenance and Reliability
The KTM 125 Duke scores well on the reliability chart, thanks to the meticulous Austrian engineering and the use of high-quality components. Owners often find this bike to be robust and dependable for everyday commuting as well as occasional long rides. However, like any mechanical being, the Duke also requires regular maintenance to keep it in tip-top condition.
Common maintenance tasks include oil and filter changes, which are recommended every 5,000 kilometres or annually, whichever comes first. Additionally, chain lubrication and tensioning should be checked every 500 kilometres to ensure smooth operation. The bike's user manual provides a comprehensive list of maintenance intervals which, if adhered to, significantly contribute to the longevity and reliability of the machine.
In terms of known issues, there have been few recalls over the years, though they've been promptly addressed by KTM. For example, in certain batches, there were reported issues with the headlight, which were rectified under warranty. It's advisable for owners to keep in touch with authorised service centres and stay updated on any recalls or service bulletins.
Comparatively, the maintenance routine for the KTM 125 Duke is in line with other bikes in its class. However, the peace of mind that comes with the bike's solid build quality is often highlighted by owners as a distinct advantage.
Moreover, the availability of parts and a well-established network of service centres make addressing any maintenance or reliability concerns relatively straightforward. The KTM 125 Duke, with its blend of reliability and ease of maintenance, stands as a sensible choice for both new and experienced riders. The accessibility of professional servicing and the bike's forgiving nature on maintenance schedules further bolster its appeal as a trustworthy companion on the road.
KTM 125 Duke Reviews and Testimonials
The KTM 125 Duke has found favour among many riders, courtesy of its commendable performance, solid build quality, and sharp design. Various review platforms provide a glimpse into the user experiences, presenting a blend of satisfaction and constructive feedback.
On ZigWheels, the bike enjoys a user rating of 4.0 out of 5, based on a substantial number of ratings and reviews. The categories of performance, comfort, and features & styling have been rated above 4, although the maintenance cost received a slightly lower rating of 3.6. Another platform, BikeDekho, mirrors this positive outlook, with a rating of 4.5 based on user reviews. Motorcycle News, reviewing a 2017 model, gave it a rating of 4 out of 5, with owners rating it slightly higher at 4.3 out of 5.
A user termed the KTM 125 Duke as the "Compact Dynamo", praising its striking design and performance capabilities. The reviewer appreciates how the bike encapsulates KTM's performance ethos in a learner-friendly package, referring to it as a "compact hustler with surprising capabilities". Moreover, Honest John has highlighted the bike's build quality, brilliant TFT display, and commendable performance and handling as standout features, describing it as a charming and practical machine for its capacity.
In summary, the KTM 125 Duke receives accolades for its quality build, performance, and unique design, marking it as a preferred choice among new riders and those seeking a reliable city commuter. However, the maintenance cost is a factor potential buyers might want to weigh. Through these reviews, it's clear that the KTM 125 Duke has resonated well with its user base, blending practicality with a touch of sportiness that appeals to a wide spectrum of riders.
Frequently Asked Questions
How fast can a KTM Duke 125 go?
The top speed of the KTM Duke 125 varies slightly across sources, but it generally falls between 71 mph (114 km/h) and 78 mph (125 km/h)​​.
How much is a 125 KTM Duke?
The price for a new KTM Duke 125 (2023 model) in the UK varies slightly across different outlets, with figures ranging from £3,503 to £4,799. However, a common price point you might come across is £4,299.00. For used models, the price can range widely based on the bike's age, condition, and mileage, typically starting from around £2,000 for older models. It's advisable to check with local KTM dealerships or reputable used bike sellers for the most accurate and current pricing.
Is the KTM Duke 125 a good first bike?
The KTM Duke 125 is regarded as a great first bike for new riders due to its manageable power delivery, good braking, smooth gearbox, and manageable weight. It's also appreciated for its handling and is often compared favourably with other beginner bikes like the Yamaha MT-15 BS6​​.
Is the KTM Duke 125 heavy?
The weight of the KTM Duke 125 is reported to be between 139 kg to 159 kg depending on the source. Some sources mention a kerb weight of 159 kg, while others mention a curb weight between 156-158 kg​​.
Can I ride a KTM Duke 125 on a CBT?
Yes, you can ride a KTM Duke 125 on a CBT (Compulsory Basic Training) certificate, provided you are over 17 years old. The KTM Duke 125 is often listed among the best bikes to ride on a CBT, making it a popular choice for new riders who have completed their CBT course​​.