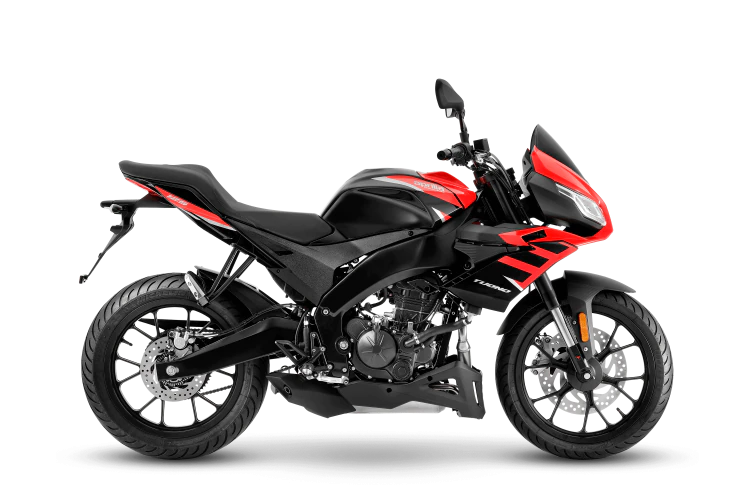 The Aprilia Tuono 125 encapsulates a spirited racing essence, embodying a sleek design that captures the allure of the open road. Drawing inspiration from Aprilia's iconic racing lineage, this bike is a gateway to a motorcycling adventure for newcomers, while offering a zest of performance that enthusiasts appreciate. Its aesthetic appeal mirrors the bold character of Aprilia's larger Tuono models, making it a compelling choice for those seeking both style and substance. The Tuono 125 is not just about looks; its ergonomic design ensures a comfortable ride, making it a trusted companion for both city commutes and longer journeys.
Dimensions & Weight
| | |
| --- | --- |
| Seat Height | 810 mm |
| Wheelbase | 1,350 mm |
| Dry Weight | 187 kg |
Engine & Performance
Engine Type

Single cylinder, four-stroke

Engine Size/Displacement

124.2 cc

Horsepower and Torque
15.00 HP at 10500 RPM
10.90 Nm at 8250 RPM
Transmission & Fuel
| | |
| --- | --- |
| Number of Gears | 6-speed |
| Fuel Capacity | 14.5 litres |
| Fuel Economy | 90 mpg |
Chassis & Suspension
Frame Type

Aluminium perimeter frame

Front/Rear Suspension
Upside down hydraulic fork, 40 mm /
Asymmetric swingarm with monoshock
Front/Rear Brake
Single disc, ABS, Stainless steel disc with radial 4 piston caliper, 300 mm /
Single disc, ABS, Single 30 mm piston, 218 mm

History and Evolution of the Aprilia Tuono 125
The history and evolution of the Aprilia Tuono 125 is closely tied to its parent model, the Aprilia Tuono, which has had a significant impact on the naked bike segment since its inception in 2002. The Tuono was initially based on the Aprilia RSV Mille, sharing many components including its engine, gearbox, and frame, which allowed for a more aggressive, stripped-down version retaining superbike performance characteristics​.
The Tuono, specifically, made a mark as an entry-level naked bike suitable for novices. The 2006 model was powered by a liquid-cooled, two-stroke, 124cc single-cylinder engine paired to a six-speed manual transmission, boasting a claimed 28 horsepower and 23 Nm of torque when unrestricted, and 14 horsepower and 16 Nm of torque in its restricted form​​.
A significant milestone was the unveiling of the RSV Mille Tuono R Limited Edition at the 26th Bologna Motor Show, showcasing a maxi-naked bike with a limited production run, indicating the brand's growing emphasis on this segment​​.
Moreover, the Aprilia Tuono 125 from 2003 to 2005 was described as an Aprilia RS125 with a nose fairing and flat bars, highlighting its derived nature from other models within the Aprilia range, and possibly marking a transition in design approach towards a more street-oriented aesthetic while maintaining a sporty edge​​.
Performance and Handling
The Aprilia Tuono 125 is a blend of comfort and adept performance, especially catering to larger riders with its upright seating, which contrasts the race-oriented stance of the RS125, although with a slight trade-off in steering sharpness​. Performance-wise, the Tuono 125 is a marvel in the 125cc segment, engineered with twin cams, water-cooling, fuel injection, and a four-valve head to maximize legal performance output​​. Its aluminium chassis is a testament to Aprilia's focus on speed and performance control, setting a benchmark in this class​​.
When pitted against the KTM 125 Duke, the Tuono 125 edges ahead with a higher power output of 15.2PS, albeit with a slightly lower torque of 11.2Nm. Both sport 6-speed gearboxes, but the Tuono 125 uniquely offers an optional electronic quickshifter. They ride on different USD fork specifications, and while the front brake disc size is identical at 300mm, the Tuono 125 has a smaller rear disc at 218mm. Notably, the Tuono 125 comes with dual-channel ABS as standard, a feature not shared by the India-spec 125 Duke. Additionally, the Tuono 125 stands out with a larger fuel tank capacity of 14.5 litres, ensuring longer rides between refuels, further enhancing its appeal for those keen on extended road experiences​​. The Aprilia Tuono 125 is, without a doubt, a competitive entry in the 125cc segment, promising both comfort and robust performance.
Maintenance and Reliability
The Aprilia Tuono 125, much like its larger-displacement counterparts, has a reputation for reliability, with users often referring to it as bulletproof owing to ongoing improvements made to the model over time. However, like any machine, it requires regular maintenance to keep it in top shape​​. The Aprilia Tuono series has had some common issues reported by users, such as a hot start problem, leaking front fork seal, quick tyre wear on the edges, and issues with the rebound adjuster on a Sach shock. Other issues include a recall on the Master Cylinder, Low-Speed Fueling Error, loose rear sprocket bolts on models manufactured before 9/28/2015, ineffective quickshifter, and Dash Dim becoming blank intermittently​​.
The bike is rated 4 out of 5 for reliability on Motorcycle News, which is a respectable score indicating a level of trust among the riding community​​. Yet, it's crucial to note that its higher price point compared to similar models like the Yamaha MT-125 or KTM Duke 125 may impact its perceived value, especially if maintenance costs are a concern​​. The model from 2003-2005 scored 3 out of 5 for reliability and build quality on MCN as well, hinting at a consistent trend of moderate to high reliability over the years​​.
Maintaining your Aprilia Tuono 125 involves regular checks and services. Some common maintenance tasks include checking and, if necessary, replacing the engine oil, brake fluid, coolant, and air filter, along with inspecting brake pads and discs for wear, checking tyre pressures and tread depth, and ensuring all lights, indicators, and electrical systems are functioning correctly. It's advisable to follow the maintenance schedule provided in the owner's manual, and when in doubt, consult with a reputable Aprilia service centre.
Specific maintenance schedules and additional information could be found in the owner's manual of the Aprilia Tuono 125 or by contacting an authorised Aprilia dealership.
Aprilia Tuono 125 Reviews and Testimonials
The Aprilia Tuono 125 is revered for its racing heritage, offering good performance, brakes, and comfort. It's seen as an aspirational 125cc bike, though comparable specs can be found in models like the Yamaha MT-125 or KTM Duke 125 for less money​​. A video review by an owner who has ridden the bike for over 1500 miles praises the engine sound, hinting at a satisfying riding experience​. The design of the Tuono 125, inspired by the Tuono V4 1100, is appreciated for its bold aesthetic, drawing parallels with Aprilia's iconic RSV4 model​​.
However, not all reviews are glowing. Some issues have been pointed out by Bennetts, particularly concerning owner negligence like thrashing the bikes from cold, which can lead to reliability issues. While some problems like a holed exhaust can be fixed cheaply, concerns about the gearbox are more serious​​. Another long-term review by an 18-month owner on YouTube might provide more insights on the bike's performance over time​​.
Pros
Racing Heritage: Inspired by Aprilia's racing lineage, offering a sporty riding experience.
Performance: Commendable performance with good braking and comfort for its class.
Design: Bold design drawing inspiration from higher-end models like the Tuono V4 1100.
Cons
Price: Slightly pricier compared to other 125cc models with similar specifications.
Owner Negligence: The bike requires a responsible riding and maintenance approach to prevent common issues.
Gearbox Concerns: There have been mentions of concerns regarding the gearbox.
Frequently Asked Questions
What is the top speed of the Aprilia Tuono 125?
The Aprilia Tuono 125 has a reported top speed of around 80 mph (128 km/h), although this can vary slightly based on rider weight and road conditions.
What is the fuel efficiency of the Aprilia Tuono 125?
While the exact fuel efficiency can vary based on riding conditions and maintenance, the Aprilia Tuono 125 is known for being fairly fuel-efficient, with some reports suggesting a mileage of around 80-90 mpg (34-38 km/l).
Is the Aprilia Tuono 125 a good bike for beginners?
Yes, the Tuono is often recommended for beginners due to its manageable engine size, upright seating position, and good handling characteristics.